If you are willing to pay the high price, you'll get a convenient travel bag that's not only perfectly designed to fit under airplane seats but makes it easy to access your belongings without pulling the whole bag out. It's made of durable ballistic nylon and offers plenty of padded storage space to keep your devices protected in travel. It's also water-resistant with waterproof zippers to protect against the elements.
Pros
+

Durable minimalist design

+

Made with quality materials

+

Fits perfectly under most airplane seats

+

Waterproof and lockable zippers

+

Plenty of storage and pockets

+

Three color options
Cons
-

Expensive

-

Handle is in an odd spot

-

Sternum strap is at an odd height
Why you can trust Windows Central Our expert reviewers spend hours testing and comparing products and services so you can choose the best for you. Find out more about how we test.
I'm the kind of person who brings most of my best tech on travels. This means I need a heavy-duty bag that provides the storage space and durable design necessary for toting my laptop, a tablet, handheld gaming systems, their cases, respective charging cables, and other belongings. Finding the best laptop backpacks for my tech isn't easy, so my eyes lit up when I saw that Waterfield was releasing the Air Porter Backpack.
It's specifically designed to fit under most airplane seats and provides zippers that make your belongings easily accessible while in flight. To test this bag out, I used it as my carry-on while flying across the United States on vacation with my husband. We packed it with all our favorite devices, which provided the best tech air travel experience I've ever had. It's not entirely perfect, but it's damn near it.
Disclaimer: This review was made possible by a review unit provided by Waterfield. The company did not see the contents of the review before publishing.
Waterfield Air Porter: Price and availability
The Air Porter Travel Backpack sells for $419 at Waterfield's official storefront. Without a doubt, these bags are very pricey, but they're also high-quality, useful, and durable. There are three color options, each available in a black ballistic nylon with a different color full-grain leather accent on the front: Chocolate Leather, Black Leather, or Crimson Leather. I reviewed a sample of the Crimson Leather version.
Waterfield Air Porter Travel Backpack
Price: $419
Volume: 22 liters
Materials: 1680 Denier black ballistic nylon with full-grain leather accent
Colors: Chocolate Leather, Black Leather, Crimson Leather
Dimensions: 12 x 7 x 16.5 inches
Weight: 2.95 lbs
In addition to the bag itself, buyers can choose to add a matching Air Caddy for $59 to $79, depending on the options chosen. On Waterfield's website, buyers can purchase a matching Airtag Leather Luggage Tag for $49 if they desire. You can see the matching Crimson Leather Airtag in my pictures. This extra accessory also came with a small Apple AirTag (via iMore) sleeve, which I can drop into the luggage tag or place within a special pocket within the Air Porter itself.
Waterfield Designs has long been a producer of high-quality bags and accessories that are manufactured out of San Francisco, California. The company's use of premium materials and durable construction, combined with its focus on minimalist styles, gives Waterfield's products an exquisite look and feel. But these same aspects are also what make these bags rather expensive.
Waterfield Air Porter Travel Backpack | See at Waterfield
This durable bag is made of quality materials and has plenty of space to carry your belongings while still fitting in the standard carry-on storage space underneath airplane seats. It's available in three colors for you to select your favorite.
Waterfield Air Porter: Design and Storage
Altogether, the Air Porter is 12 inches long, seven inches wide, and 16.5 inches tall, with a carrying volume of 22 liters. It's a hefty bag that I packed with my and my husband's most important tech. Specifically, I packed it to the brim with two laptops (one rather chunky and the other slim), a tablet, a couple of books, two Nintendo Switch OLEDs in carrying cases, my ASUS ROG Ally in a carrying case, my husband's Steam Deck in a Tomtoc carrying case, and all of the necessary cables needed for each device.
Despite holding a ton of weight, it never felt like any part of the bag would rip or tear, thanks to the tough 1680 Denier black ballistic nylon it is made of. This happens to be the same type of material that bulletproof vests are made of, and it's both water-resistant and doesn't easily wear out. The outside of the bag might seem minimalist and utilitarian, but inside each pocket, the bag is lined with a gorgeous gold fabric that adds a dynamic look to the Air Porter.
More Windows tech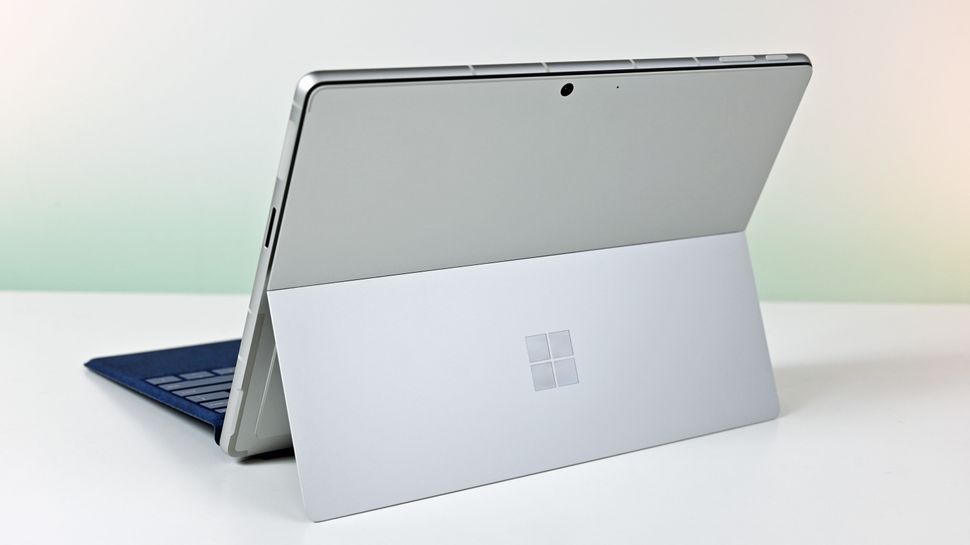 - Best Windows laptops
- ROG Ally compared to Steam Deck
- Best laptop bags
- Steam Deck review
- Best engineering tablets for students
Along with the main zippered compartment, there are five zippered pockets in total. Four of these (the ones on the outside) are waterproof and pulled with metal zippers that can be locked together with TSA-compatible security locks (which you'll need to supply yourself).
The zippers all move nicely, and I never had to worry about them getting stuck or jammed. Considering that I was entrusting this bag to carry my favorite tech, it was nice knowing that water couldn't easily get in to damage anything.
I also love how wide the main zipper opens, allowing the top of the bag to swing open as if on a hinge and giving me plenty of room to access everything within. The two laptop slots in the main compartment are extra padded and made me feel comfortable placing my expensive and beefy Acer Swift X 16 alongside the Lenovo Slim Pro 7 inside. These laptops fit beautifully without being too snug or difficult to remove.
Due to the bag's design, the handle is located more on the upper backside of the backpack than on the top. This prevents the backpack from experiencing too much stress when held by the strap, but it also means that the handle is in a somewhat awkward location that takes a bit more work than usual to grab. It's not the worst thing in the world, and I did get used to its placement, but it might be a notable thing for some to adjust to.
Waterfield Air Porter: Carrying and travel experience
After absolutely packing this bag to the brim, I wasn't sure how comfortable it would be to carry around, but it proved to be more comfortable than I expected. The neoprene-padded arm straps are strong, and the bag is designed in such a way that it feels very balanced and contained. It doesn't pull against my center of gravity or make my back sore.
There's also a sternum strap much like what's found on my Camelbak, which helps stabilize the bag and keep it steady. These straps can be slid up and down or removed entirely if that is your prerogative. When I first put the bag on, I found that the sternum strap was far too high and grated uncomfortable on my neck and chin.
It was only when I removed them and put them under the sewed line on either arm strap that it finally felt comfortable. Even then, I opted to remove them as they weren't the most comfortable thing, and the backpack felt steady enough for me without them.
The backside of the backpack is padded for a comfortable wearing experience, and I can even tuck the arm straps away into a backside pocket if I simply want to use the handle to tote it around.
Image 1 of 4
The most important aspect of the Air Porter's design is that it is not only intended to fit in most airplanes' overhead bins or under most airplane seats. It's also the fact that the top of the bag is intended to be easily accessible when under the seat in front of you. For this reason, I placed my reading books, my wireless earbuds, and my Nintendo Switch in the top two zippers and was always able to easily remove them regardless of the four airplanes I flew on.
As advertised, the bag fit beautifully on the ground in front of me, and I never had to worry about it invading another person's space or being too large to fit properly under the seat in front of me.
As I previously said, the larger of the two zippers is big enough to fit a Switch OLED in its carrying case. I also attempted to put the Steam Deck or my ROG Ally in this top pocket, but the cases were just slightly too big. Still, this 12-by-7-by-2-inch area is perfect for books, smaller tablets, earbuds, and other items you might want to use in flight.
Waterfield Air Porter: Should you buy it?
You should buy it if...
✅ You want a durable backpack that can hold a lot of things
The majority of the bag is made of the same material used in bulletproof vests: 1680 Denier ballistic nylon. This makes the Air Porter extremely strong and long-lasting.
✅ You're looking for a bag that perfectly fits under airplane seats
The Air Porter was specifically designed to fit under airplane seats or in airplane bins. Thanks to the design of the top two zippers, it's very easy to access your belongings while the bag is under the seat in front of you without having to pull the bag out.
✅ You want a water-resistant bag with waterproof zippers
If you tend to travel with sensitive papers or expensive tech, then you want a bag that isn't likely to get damaged by the elements. The Air Porter is made of a water-resistant material, and all of the outer zippers are waterproof as well.
You should not buy it if...
❌ You want something cheaper
There's no denying that Waterfield products are expensive. If you can swing it, you'll be paying for quality and durability, but obviously, the price won't be feasible for everyone.
❌ You don't like the color options
Compared to Waterfield's other products, the color options for the Air Porter are relatively limited. There are plenty of other bags out there in a variety of designs to suit your needs, though.
❌ You're looking for a bag that's easier to carry on your arm
While it is possible to tuck the arm straps away and tote the Air Porter around by the handle, it isn't as easy as with some other bags out there due to the handle's placement.
I absolutely loved traveling with the Air Porter Backpack from Waterfield. Thanks to the design of the bag's top two pockets, I could easily access my favorite pass-time items like books, my Nintendo Switch, earbuds, and more without having to pull my bag out from under the seat in front of me.
Moreover, the bag's various compartments allowed me to easily carry my other necessary tech devices, such as a couple of laptops and a tablet, while keeping them all safely protected in padded pockets. Despite the hefty weight of the backpack, the ballistic nylon material it is made of kept everything securely together in an extremely durable way.
That all being said, acquiring this beautiful bag costs hundreds of dollars, so it might be too far above some people's price range. However, if you feel comfortable spending that much, you will get a very convenient travel bag that will last you a long time.
Self-professed gaming geek, Rebecca Spear, is one of Windows Central's gaming editors with a focus on Xbox and PC gaming. When she isn't checking out the latest games on Xbox Game Pass, PC, or Steam Deck; she can be found digital drawing with a Wacom tablet. She's written thousands of game guides, previews, features, and hardware reviews over the last few years. If you need information about anything gaming related, her articles can help you out. She also loves testing game accessories and any new tech on the market.